Camping on Board advantages
All passenger Cars & Trailers
Ferry to Thessaloniki
Passengers travelling by ferry to Thessaloniki arrive at the second largest city in Greece and the capital of Macedonia in northern Greece!
Travelling to the Destination Thessaloniki
Thessaloniki, (also known as Salonika or Saloniki, has been home of some of the greatest musicians, artists, poets and thinkers. It features some of the most beautiful beaches, finest hotels and best restaurants. Every year, numerous cultural events, national and international, take place in Thessaloniki. Therefore, it is considered to be Greece's cultural capital.
Visitors travelling to the destination Thessaloniki might want to explore the city itself or head to the renowned surrounding areas. The city was founded in 315 BC by Cassander of Macedon and has a long history and many sites of historical interest. Museums, historical buildings, and ancient sites anything a traveler might seek. Before leaving with ferries from Thessaloniki, tourists should visit the Palace of Galerius at Navarino Square, built by the Roman Emperor Galerius Valerius Maximianus at the end of the 3rd Century, the Galerian Arch (Kamara) or the Roman Market and Theatre which are located at the Law Court Square (Dikastiria). There are also the Roman Baths just north of the church of Agios Dimitrios and the Nymphaion, an elegant monopteral, circular building.
Ferry routes Thessaloniki connect the largest port in northern Greece with other Greek destinations like Volos, Skiathos, Skopelos, Limnos, Samos, Lesvos and Chios. Thessaloniki is a popular tourist destination in Greece. For 2013, National Geographic Magazine included Thessaloniki in its top tourist destinations worldwide. It is renowned for its major shopping streets. Tsimiski Street and Proxenou Koromila avenue are the city's most famous shopping streets and are among Greece's most expensive and exclusive high streets. Through Thessaloniki ferry timetable visitors can plan their trip to the city and maybe stay at the most famous and prestigious hotels like Makedonia Palace hotel or the Hyatt Regency Casino and hotel (the biggest casino in Greece and one of the biggest in Europe) and visit Waterland, the largest water park in south-eastern Europe.
Schedules & Prices Thessaloniki
Choose your departure port and date and get all current ferry schedules and prices for Thessaloniki!
Discounts & Offers Thessaloniki
Ferry Port Thessaloniki - How to get there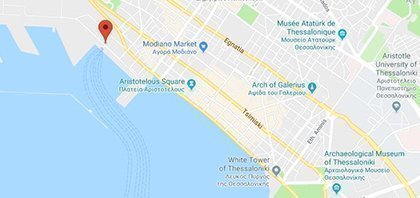 546 26 Thessaloniki, Greece
Tel.: +30 231 332 5800
GPS: 40.635639, 22.933129
Popular Routes from & to Thessaloniki