Camping on Board advantages
All passenger Cars & Trailers
Ferry to Kavala
Passengers travelling by ferry to Kavala arrive in a commercial and port city in northern Greece on the Gulf of Kavala of the Thracian Sea!
Travelling to the Destination Kavala
It is situated on the Bay of Kavala across from the island of Thasos. The former "Neapolis" is one of the most beautiful cities in Greece with buildings built amphitheatrically on the slopes of Mt Symvolo. The city's history dates back to the Prehistoric times. The district of Panayia has been uninterruptedly inhabited since the 7th century BC and was the initial city.
The ferry to Kavala arrives from all over Greece. The port of Kavala played a major role in the evolution and the development of the city from ancient times until now. Through here, the Apostle Paul arrived in Kavala and started to spread Christianity throughout Europe. Passengers arriving in Kavala will soon spot the Kamares, meaning arches, which are the trademark of the city and a listed monument. It was built as an aqueduct in 1550 by the Sultan Suleiman II, the Magnificent. Before leaving with ferries from Kavala, tourists should walk along this great monument which has a length of 280 meters and consist of 60 arches. They should also visit the house of Mehmet Ali at the Old Town Square. It's a beautiful building, based on Macedonian architecture.
Ferry routes Kavala connect the city with other Greek destinations. A lot of tourists visit the town for its beauty, but also for the nearby beaches, hotels and its history. Over the years, different civilizations have left their traits in Kavala. Tourists will be amazed by the Imaret, a big edifice of the late Ottoman period in the Old Town. The former educational and charitable institution which was housed in the Imaret is now a luxurious hotel that maintains something of the ambience of its era. Through Kavala ferry timetable, visitors can plan their trip to Kavala and stay in that marvellous hotel with the breathtaking view of the bay.
Schedules & Prices Kavala
Choose your departure port and date and get all current ferry schedules and prices for Kavala!
Discounts & Offers Kavala
Ferry Port Kavala - How to get there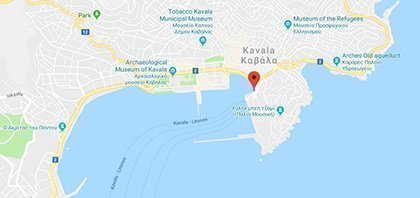 1, Averof, Kavala 654 03, Greece
Tel.: +30 251 022 3716
GPS: 40.934628, 24.412324
Popular Routes from & to Kavala