Camping on Board advantages
All passenger Cars & Trailers
Ferry to Thira
Passengers travelling by ferry to Thira arrive to the old port of Santorini island below the homonymous village of Thira!
Travelling to the Destination Thira
In the past the ascent from the port to the village was made only by donkeys or by the long path of 250 steps. Today there is also a cable car available, a donation of Evangelos Nomikos foundation. All revenues from the cable car are given to the island's Communities for the execution of development work.
When travelling to the destination Thira you reach a port packed with life during the day since it's the starting point for nearby island excursions. It's also where passengers from cruise ships disembark so as to use the cable car and reach the settlement above. The most romantic ones can take a sea taxi from there and visit the settlement of Oia where you can watch the famous sun set. Leave with a ferry from Thira and go to the rocky island of Nea and Palea Kammeni to see the active volcano of Santorini whose last eruption took place in 1950. Continue your trip and get to Thirasia where you get a glimpse of the old traditional life of Santorinis Island. During your small stay at the port of Thira you can enjoy a cup of coffee or something to eat since there are coffee shops and restaurants available.
Thira ferry routes start from the new port of Athinios that connect the island with Rafina and Piraeus and of course with many other islands such as Mykonos, Paros , Naxos Tinos and Andros.
Schedules & Prices Thira
Choose your departure port and date and get all current ferry schedules and prices for Thira!
Discounts & Offers Thira
Ferry Port Thira - How to get there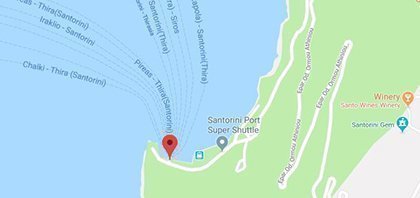 Athinios Port
847 00 Santorini, Greece
Tel.: +30 228 602 2239
GPS: 36.386121, 25.428430
Popular Routes from & to Thira (Santorini)