Camping on Board advantages
All passenger Cars & Trailers
Ferry to Rafina
Passengers travelling by ferry to Rafina arrive to the second largest port in Athens, few kilometers away from the Athens International Airport!
Travelling to the Destination Rafina
The port becomes more and more important and is growing constantly because of its correspondence with ferry Rafina. Due to the construction of the Highway Attiki Odos the port has become easily accessible by an increasing number of tourists who show interest in traveling to the Cycladic island group. As a result more and more ferry routes have been added to the port and more and more shipping companies contribute to its growth.
Passengers travelling to the destination Rafina arrive at a small town on the east coast of Attica. Rafina may have a suburban location but it is not far away from the international airport of Athens El. Venizelos and of the city of Athens itself. With 12, 990 inhabitants living in Rafina population density is 684, 4 inhabitants per square kilometre. Rafina covers an area of almost 19 square kilometers and is only 25 km away from the center of Athens. Thus tourists that wish to travel with ferries from Rafina don't have a long access route to that port located at the coast of the Aegean Sea.
Ferry routes Rafina are well developed and include routes to Tinos, Andros and Mykonos in their schedules. From Rafina/Athens both conventional ferries and speed ferries sail to the mentioned islands. Via the booking engine of isferry.com you will be able to check the Rafina ferry timetable at any time. The port of Rafina operates exclusively as a passenger port. It is not a container port.
Schedules & Prices Rafina
Choose your departure port and date and get all current ferry schedules and prices for Rafina!
Discounts & Offers Rafina
Ferry Port Rafina - How to get there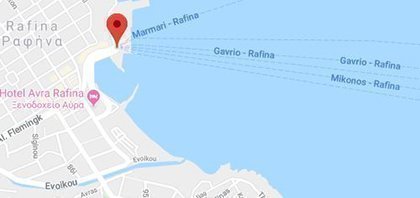 10, Akti Andrea Papandreou, 190 09 Rafina, Greece
Tel.: +30 229 402 2840
GPS: 38.022754, 24.010269
Popular Routes from & to Rafina