Camping on Board advantages
All passenger Cars & Trailers
Ferry to Tzia
Passengers traveling by ferry to Tzia probably travel along with Athenians and other Greeks, who want to spend the weekend or their holidays on the island!
Tzia belongs to the Cycladic Islands in the Southern Aegean and is located 20 km from Cape Sounion and only 60 km from the city of Athens. That is why many Athenians chose the island as a weekend getaway, either to stay at their holiday homes or to visit friends. Tzia is known for many things, like for the beautiful beaches, the ruins of ancient cities and one of the best system of walking paths and trails in Greece.
When traveling to the destination Tzia (Kea), travelers must begin their journey from the port of Lavrio. The journey takes only an hour and is inexpensive. Tzia is a mountainous island enclosed by a steep rock face that is interspersed by numerous coves, sea caves and capes. The coastal region looks rather barren but the fertile interior of the island has lush vegetation. The island is cosmopolitan and the locals are friendly people who will serve you fresh fish and other delicacies in their restaurants and traditional taverns. You will find the remains of 4 ancient cities to visit on Kea, some magnificent beaches to take a swim and the main city, built in an amphitheatrical way on the slope of a mountain. The ancient city Ioulis and the main town of Tzia feature some magnificent mansions, traditional houses, fountains and domed alleys, as well as some open squares surrounded by shops, restaurants and bars. After exploring the town on foot, since cars are not allowed in the city, it is nice to relax in one of the cafes and have a cold drink. Before departing by ferry from Tzia, take your time to visit the archeological museum which is among the most important in the Cyclades and visit the beach of Gialiskari to dive into the waters of the Aegean Sea.
The island of Tzia is quite big with 120 qkm, but only 2000 people live on the island. Touristic activity is mostly limited to weekend trippers and Athenians. Ferry routes Tzia start from Lavrio with 3 daily sailings that are increased during the summer period. In summer there are also ferry routes Tzia starting from Piraeus. For those who want to discover an authentic Cycladic Island without getting lost in mass tourism, Tzia (Kea) may be the ideal destination.
Ferry Port Tzia - How to get there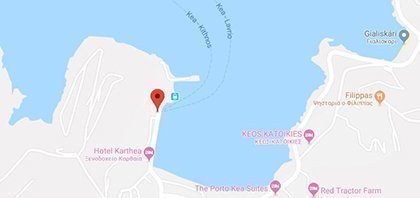 840 02 Kea, Greece
Tel.: +30 228 802 1344
GPS: 37.660429, 24.312043
Popular Routes from & to Tzia (Kea)