Camping on Board advantages
All passenger Cars & Trailers
Ferry to Vlora
Passengers travelling by ferry to Vlora arrive at Albania's second largest port!
Travelling to the Destination Vlora
Built in the homonymous Adriatic Sea bay, the city has witnessed a great tourist development in the last years. With a population of 79,948 inhabitants, Vlora, with its endless beaches, offers large hotel complexes and the necessary infrastructure to serve tourists from all over the world. Restaurants, cafés and shops stretch along the large palm-tree boulevard. The Uji i Ftohte region, 3 km from the city center, is also ideal for nightlife entertainment as its bars, pubs and restaurants offer drinks and music for every preference.
Tourist travelling to the destination Vlora by ferry are looking for quiet holidays. It is an ideal destination for those who want to enjoy their swim in organized beaches with lush waters, relax in the comfort of luxury hotels, have fun at nightclubs or even go sightseeing. The town of Nartha in the northwest of Vlora attracts a large number of tourists in the summer due to the three-day local traditional feast so you can pay it a visit before leaving with a ferry from Vlora. The surrounding area is ideal for exploring, as the lagoon and salt ponds on the northern coast of Narthe Island host rare species of flora and fauna. A verdant islet that joins the land with a wooden bridge leads to the beautiful Byzantine monastery of Zverneck. In the city of Vlora the traveler can visit the building where the independence of the state of Albania was proclaimed on November 28, 1912, which is also a symbol of the city.
Albania's commercial and industrial center, Vlora is a city that has been developing economically and culturally in recent years. Ferry Vlora link Albania to the port of Brindisi in Italy.
Schedules & Prices Vlora
Choose your departure port and date and get all current ferry schedules and prices for Vlora!
Discounts & Offers Vlora
Ferry Port Vlora - How to get there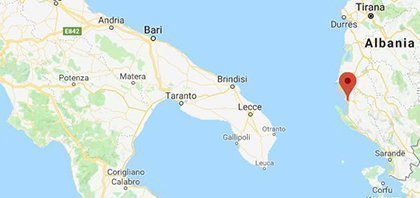 Vlorë, Albania
Tel.: +355 33 409 700
GPS: 40.452305, 19.483587
Popular Routes from & to Vlora