Camping on Board advantages
All passenger Cars & Trailers
Ferry to Cagliari
Visitors travelling by ferry to Cagliari, capital of Sardinia, will soon find the city's most interesting piece, the Castello district!
Travelling to the Destination Cagliari
Travelling to the destination Cagliari, visitors are impressed by the Sardinia's capital city artistry and backround. First thing someone will see at arrival is the harbor at the heart of the town with its shops, cafeterias and eating places. The enormous bastion of San Remy belongs in the city's main attractions for its history and fantastic view of the sea and the city itself. After, the Elephant tower and Il Castello area are for sure two places which deserve touring. Famous for its story, this square has much to offer like slim alleys combined with colourful structures and also interesting ones, for example the Santa Maria Cathedral, Palazzo Archivescovile and Palazzo Regio. The ancient Cagliari Cathedral, developed in the 13th century, being a superb frontage with highly garnished internal joins the best sights to visit after journeying with ferry to Cagliari. Next there is the Roman Amphitheatre situated in the northern region of the city. Then, it hosted fighting gladiators and now it often arranges concerts and performances. For nature lovers, the botanical gardens within the university of Cagliari and Parco di Monte Urpinu are two spots which merit a stand. Last but not least, in order to encounter the residents' way of living and working but also socializing with them, tourists visit the market at San Benedetto, the largest in the town. There you can find everything including the specialities which are seafood and lamb cheese. Since Sardinia is an island, the top dishes are consisted of fish, lobster, octopus and sea urchins followed by the local dessert seada.
The city of Cagliari lies in the south of Sardinia, 99 km away from Sardinia. Ferry routes Cagliari connect it with Arbatax, Palermo, Naples and Civitavvechia in Italy especially in summer season where much more are operating.
Schedules & Prices Cagliari
Choose your departure port and date and get all current ferry schedules and prices for Cagliari!
Discounts & Offers Cagliari
Ferry Port Cagliari - How to get there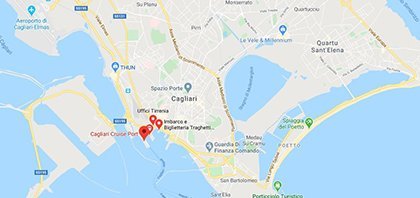 Via Riva di Ponente, 09123 Cagliari CA, Italy
Tel.: +39 070 679 531
GPS: 39.211277, 9.113441
Popular Routes from & to Cagliari