Camping on Board advantages
All passenger Cars & Trailers
Ferry to Capraia
Passengers travelling by ferry to Capraia, officially known as Capraia Isola, are debarking at a mountainous island with rich unspoiled nature!
Travelling to the Destination Capraia
Nine million years ago, two volcanoes, Capraia and Zenobito coalesced, they formed this beautiful, rocky island with its wealthy nature and stunning landscapes. Cliffs, forests, rolling hills are everywhere around so this makes it ideal for passengers who are travelling to the destination Capraia, one of the seven islands in the Tuscan Archipelago. It is notable to mention that Phoenicians, Romans, even Greeks have been living on the island in the old times so it contains a mixed culture heritage. It also consisted a former penal colony in the age of 1980. The islet contains two settlements, one small town in the harbor called Porto and the village behind the mysterious and historical fortress San Giorgio, built in order to protect from pirates. There are some beaches to sunbathe and swim but the island is surely not known for them. Instead, it is perfect for the lovers of hiking and exploring. One of the best sites after hiking the rocky coves is Torre dello Zenobito landmark and Dattelo, a popular point for taking photos because of its fantastic view. Monte Castello, with the height of 445 meters above sea level is gigantic and contains too much beauty in it. Wild and untouched nature, pretty flowers and trees combined with dazzling landscapes and for completition, Stagnone, a small lake which is a rare thing to see on an island are the things someone will witness. Cala Rossa is another point of interest on the island. It is a unique cove combining red and black colors. Near the promontory you can find the old abandoned monastery aswell which seems to be another main sight to visit along with the National Park whose sign is Audouin's gulf flying above the sea's waves. Moreover, the sea surrounding Capraia is the largest protected sea in Europe cause of the many cetaceans it is hosting. If you are lucky enough you may witness blue whales and striped dolphins. Capraia's cousine couldn't leave out fish since it is surrounded by the ocean and of course, being in Italy, delicious wines. In conclusion, we can understand that Capraia is surely not a modern station so most of its visitors go there in order to slip away from the city noise, relax in its romantic and charming villages and get in better touch with nature. 
Capraia or Capraia Isola is part of the Tuscan Archipelago, the third biggest island of seven at the most northwestern point of the group, 50 km away from Livorno with the population of approx. 300 inhabitants. Ferry routes Capraia occur from and to Cavo and Portoferraio especially in high season months.
Schedules & Prices Capraia
Choose your departure port and date and get all current ferry schedules and prices for Capraia!
Discounts & Offers Capraia
Ferry Port Capraia - How to get there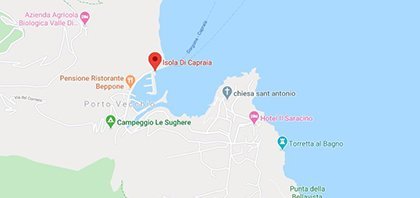 Via Assunzione, 13, 57032 Porto LI, Italy
GPS: 43.052119, 9.837853
Popular Routes from & to Capraia