Camping on Board advantages
All passenger Cars & Trailers
Ferry to Diafani
Passengers travelling by ferry to Diafani arrive at the seaside port of the village Olympos on Karpathos island!
Travelling to the Destination Diafani
When travelling to the destination Diafani you arrive to a small fishing village 70 kilometers from the capital of Karpathos. It's the ideal place for nature lovers and seekers of peaceful holidays. Access to the village is made by road or with small boats from the port of Pigadia. In Diafani you will find small family hotels and rooms to let owned by the friendly residents of the island.
When you reach by ferry to Diafani your first thought will be "what am I doing here in the middle of nowhere?". After a few days you will not want to leave the place. You will fall in love with the villages' excellent sea with thin flat pebbles and crystal blue waters. You will enjoy homemade cuisine and fresh fish in the seaside taverns. Many of the dishes are prepared with the owners own home grown vegetables and meat. You will take a ferry from Diafani and visit the nearby island of Saria an abandoned place that was once a pirate's bay. The route to Saria is magnificent and upon getting there you can enjoy your swim in distant but quaint beaches. The island is also frequently visited by locals who take care of their olive trees, animals and bee hives. Diafani also offers many beautiful paths for walking around.
Diafani has a population of around 300 residents. Ferry routes to Diafani are available from the port of Rhodes and of course from Piraeus.
Schedules & Prices Diafani
Choose your departure port and date and get all current ferry schedules and prices for Diafani!
Discounts & Offers Diafani
Ferry Port Diafani - How to get there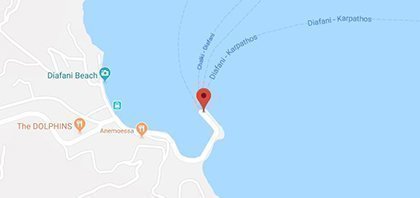 Diafani Port
857 00 Karpathos, Greece
Tel.: +30 224 502 2227
GPS: 35.755512, 27.213733
Popular Routes from & to Diafani (Karpathos)