Camping on Board advantages
All passenger Cars & Trailers
Ferry to Kasos
Passengers travelling by ferry to Kasos arrive to a hidden treasure located in the Carpathian Sea next to Karpathos and Crete!
Travelling to the Destination Kasos
Fri is the port and capital of Kasos whose name in Greek means eyebrow like the shape of the island. Agia Marina is the main village of the island situated on its north side. It's a beautiful village with authentic character composed of whitewashed houses and pebbled flooring. Kasos is known for its many feasts taking place all year long in honor of the Orthodox Saints. All feasts have a local character as both music and dancing is performed by locals and a variety of delicacies and wine is offered to all the participants.
Kasos coastline has plenty of choices for you to go for a swim. Emporios, Ammoua, Katarti, Vrisi and Kofteri have different things to offer for the holidaymaker. When travelling to the destination Kasos don't forget also to visit Armathia a small inset nearby, with Marmara a beach distinguished by its unique beauty, as it combines a tropical and a Cycladic landscape. Kasos is also an ideal island for windsurfing lovers as it gets really windy during the summer months. Those who depart from the island with ferry from Kasos will have made everlasting friends as the locals are known for their hospitality and open heart.
The island has a surface of 66 square kilometers and is inhabited by 1,000 people. Ferry routes Kasos starts  from Piraeus, Crete (Siteia, Aghios Nikolaos), Rhodes, Santorini and Karpathos islands.
Schedules & Prices Kasos
Choose your departure port and date and get all current ferry schedules and prices for Kasos!
Discounts & Offers Kasos
Ferry Port Kasos - How to get there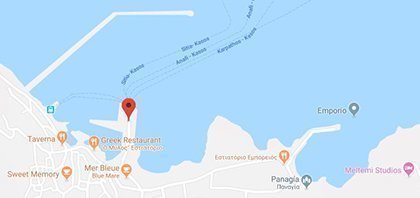 Fri Port
858 00 Kasos, Greece
Tel.: +30 224 504 1288
GPS: 35.418241, 26.924662
Popular Routes from & to Kasos