Camping on Board advantages
All passenger Cars & Trailers
Ferry to Kythira
Passengers travelling by ferry to Kythira arrive at an island which according to Greek mythology used to be home of celestial Aphrodite, the Goddess of love!
Travelling to the Destination Kythira
However, the island does not only appeal to couples in love, but also to people that want to spend their holidays on quiet beaches and in picturesque little villages without being disturbed.
Tourists travelling to the destination Kythira find local architecture that is characteristic of Kythira, the ruins of a Venetian fortress with two castle chapels (Panagia and Pandokratoras) and further archaeological sites from different epochs of Greek history (Minoan, Mycenaean, archaic and classical age). For those who are fond of swimming or just want to relax, the small port Kapsali offers beautiful beaches, hotels and restaurants. On their departure with the ferry from Kythira visitors will see the rock Avgo, a small egg-shaped rock, which is considered to be the spot where Goddess Aphrodite went ashore after her birth.
Kythira is a rather unknown island among the Ionian island group. It covers an area of 278 square kilometres and its coastline is 52 km long. 3000 people live on the island. They make their living by breeding livestock and the cultivation of vegetables and olives. Tourism is not a central economic sector. Nevertheless, ferry routes Kythira are quite well developed and are all included in isFerry's online Kythira ferry timetable. Ferries come in from Piraeus (about 105 nautical miles away) and the Peloponnese peninsula (Gythion and Neapolis). From Kythira, ferries to Monemvasia, Elafonisia, Antikythira and Crete depart regularly.
Schedules & Prices Kythira
Choose your departure port and date and get all current ferry schedules and prices for Kythira!
Discounts & Offers Kythira
Ferry Port Kythira - How to get there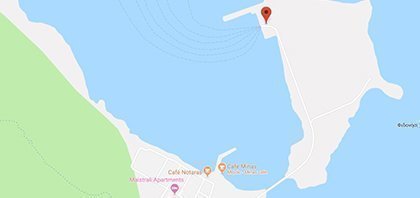 Diakofti Port
801 00 Kythira, Greece
Tel.: +30 273 603 4222
GPS: 36.270018, 23.078878
Popular Routes from & to Kythira