Camping on Board advantages
All passenger Cars & Trailers
Ferry to Milos
Passengers travelling by ferry to Milos arrive to the island where the statue of Aphrodite (the Venus de Milo) was found!
Travelling to the Destination Milos
Milos belongs to the Cyclades group. It is in the northwest of Santorini neighbouring Sifnos and Serifos. In spite of or because of its volcanic origin the island is rich in mineral resources. The oldest mines of the Mediterranean area are located on the island. Sulfur and gypsum are mined there. Vines and sugar melons are also grown on the island.
Passenger travelling to the destination Milos visit the wonderful beaches, picturesque villages, the archaeological museum, the catacombs and Chivadolimni. The latter is one of the most beautiful areas of Limnos and was named after a lake whose bottom is completely covered by shells. In the archaeological museum you can see artifacts from two major periods of Milos. The museum is located in Plaka and was built in the 19th century. The catacombs were used as religious meeting point and cemetery. They are the longest in Greece.
The ferry routes from Piraeus include the islands of Kythnos, Serifos, Sifnos, Milos and Kimolos. Especially during the summer the ferry connections are well developed in order to provide the opportunity of visiting other Cyclades Islands, too.
Schedules & Prices Milos
Choose your departure port and date and get all current ferry schedules and prices for Milos!
Discounts & Offers Milos
Ferry Port Milos - How to get there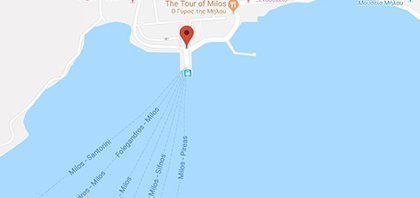 Adamas, 848 01 Milos, Greece
Tel.: +30 228 702 2130
GPS: 36.724060, 24.444888
Popular Routes from & to Milos