Camping on Board advantages
All passenger Cars & Trailers
Ferry to Tremiti
Tourists travelling by ferry to Tremiti islands, the "Adriatic pearls", are going to witness the stunning physical beauty and rich history of this complex! 
Travelling to the Destination Tremiti
There is no lie in the term they have been given as "pearls of the Adriatic sea". These five extraordinary islands have too much to offer to the tourists travelling to the destination Tremiti. Composed of San Domino, San Nicola, Capraia, Cretaccio and Pianosa, this network is a favorite tourist station for years. It is its rich history, myths but also the natural prettiness it provides. Once a penal colony in the times of Roman and Italian leaders, people get the feeling of isolation straight away as they get off. San Domino is the first one you will see since it's where the ferry disembarks. There, no cars are allowed except the residents'. San Domino's main attractions are "The Elephant", a giant rock formation giving you the feeling of an elephant drinking water from the sea and the "Cave of Swallows" where the water is so clear that you can watch the fish below the surface. A company in San Domino organizes snorkelling excursions and boat trips to the other islands around. Moving forward to the capital and most popular, San Nicola, the history of the place will give you chills. Using the elevator or the stairs you can get to the fortified village where the Abbey of Santa Maria a Mare lies. San Nicola was a monk residence for approx. 1000 years and a myth says that whoever tried to move the remains of a monk called Nicolo, hard winds and violent storms started to rise. The tower of the Knight of the Crucifix, Santa Maria delle Grazie, Torre del Pennello, Marinella beach and the caves of the Madonna, Testa di Morte and del Ferraio are definitely sites you have to visit. For the lovers of diving there are treasures below the sea such as wrecks of World War II planes, the sunk ship of the 16th century Ottoman and Padre Pio, southern Italy's local saint. The three other islands, especially Pianosa (11 miles away) which is forbidden to visit without authorization, are uninhabited but you can always visit them by boat. Capraia is deserted and its famous for its extraordinary landscapes and untouched nature. It is also the best destination for those who like diving. Punta Secca shallows, one of the most beautiful in Mediterranean, Secca del Pedagno shallows with its black corals beneath the surface, Grottone, the huge cave and Architiello, where couples exchange promises are not to be missed. 
Tremiti are located 12 miles north of Puglia's Gargano peninsula with the population of approx. 500 villagers and ferry routes Tremiti occur from Termoli very often especially in high season months.  
Schedules & Prices Tremiti
Choose your departure port and date and get all current ferry schedules and prices for Tremiti!
Discounts & Offers Tremiti
Ferry Port Tremiti - How to get there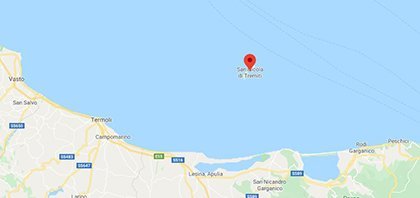 71040 Villaggio San Domino, Province of Foggia, Italy
GPS: 42.120295, 15.497137
Popular Routes from & to Tremiti