Camping on Board advantages
All passenger Cars & Trailers
Ferry to Volos
Passengers travelling by ferry to Volos arrive in a small town in the Thessaly region that was founded in the 19th century!
Travelling to the Destination Volos
This coastal port city is built at the innermost point of the Pagasetic Gulf below the ancient city Iolkos at the foot of Mount Pilio. It is situated midway on route Athens Thessaloniki. The port of Volos is on of the most important of Greece. It is the third largest commercial port in Greece. This large natural harbor is a significant center for trade, fishing and passenger traffic to the nearby islands of the Sporades. Ferry Volos sails daily to the neighbouring Sporades Islands.
Apart from the scenic landscapes that the extended (since 2010) municipality Volos has to offer, the city itself is considered a vibrant and busy center which has plenty to show. Tourists travelling to the destination Volos find countless cafes, bars, restaurants and accommodation facilities in the city. Before their departure with ferries from Volos, tourist should visit the castle of Volos, the Artist Park Anaurou and the museum on the opposite side and the house of the Greek painter Chrisoula Zogia.
Ferry routes Volos are well developed and listed online by detail through the Volos ferry timetable of isFerry's booking engine. The city's port links among others the Sporades Islands Alonissos, Skiathos and Skopelos to the Greek mainland. The ferry operators Anes Ferries and Hellenic Seaways execute routes to the islands mentioned above. Hellenic Seaways deploys more than 30 vessels of different construction (high speed ferries, Catamarans, hydrofoils, conventional ferries and Ro-Ro ferries) for the routes. The number of rides to the Sporades Islands is increased by the ferry operators during the summer months.
Schedules & Prices Volos
Choose your departure port and date and get all current ferry schedules and prices for Volos!
Discounts & Offers Volos
Ferry Port Volos - How to get there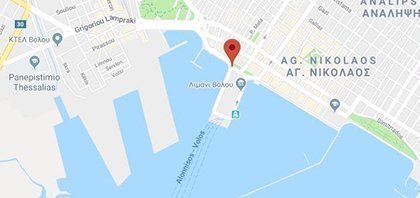 Periferiaki Volou, Volos 380 01, Greece
Tel.: +30 242 103 2975
GPS: 39.360021, 22.944059
Popular Routes from & to Volos