Camping on Board advantages
All passenger Cars & Trailers
Ferry to Agios Kirikos
Passengers traveling by ferry to Agios Kirikos cross over to the capital and largest port of the island of Ikaria!
Travelling to the Destination Agios Kirikos
Its name comes from Saint Kirikos the youngest Saint of the Orthodox Church you died at the young age of 3. The settlement is built amphitheatrical from the port and is an ideal place for walking. Narrow streets take you all over the village where you can admire its stone mansions and 2 story building with red ceramic tiles. It attracts the main tourist movement of the island and is the most developed spot in Ikaria.
Visitors travelling to the destination Agios Kirikos, should take advantage of the islands hot springs with their healing power. At the main square of the settlement cafes, bars and shops gather all the visitors offering quality time by the sea. A visit to the Metropolitan Church of Saint Dimitrios is worthwhile. A hatch leading to a cave inside the temple was the hiding place for the locals during the pirate's raids. The archeological museum of the island is also found there with many unique findings from the excavations that have taken place around the island. Many beautiful beaches are found around the area. Before leaving with a ferry from Agios Kirikos take a dive in the beaches of Anemomylos, Lefkada and Xylosyrtis.
Ferry routes to Agios Kirikos are available from the port of Piraeus. The island is also connected with Samos, Mykonos, Patmos and Fourni.
Schedules & Prices Agios Kirikos
Choose your departure port and date and get all current ferry schedules and prices for Agios Kirikos!
Discounts & Offers Agios Kirikos
Ferry Port Agios Kirikos - How to get there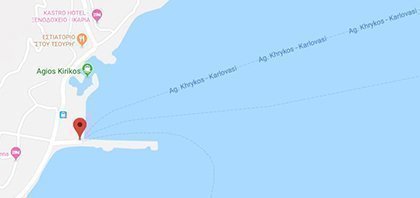 Agios Kirikos Port
833 00 Agios Kirikos, Ikaria, Greece
Tel.: +30 227 502 2207
GPS: 37.612273, 26.295395
Popular Routes from & to Agios Kirikos (Ikaria)