Camping on Board advantages
All passenger Cars & Trailers
Ferry to Agios Konstantinos
Passengers travelling by ferry to Agios Konstantinos will arrive in a small port town in central Greece that connects to the Sporades Island Group!
Travelling to the Destination Agios Konstantinos
This small coastal town on the northern Evian gulf is 48 kilometres away from the larger city Lamia and 163 kilometres from Athens, the capital city of Greece. Its port faces the northern part of the second largest Greek island Evia and is approached by numerous ferries from Evia and the Sporades Islands. The broader region, where the small town Agios Konstantinos is located today, is inhabited since the period of the Ottoman Empire. Even then, the harbor seemed to be of great importance and the whole town was protected with surrounding walls. In 1894 a Byzantine Icon portraying St. Constantine and St.Helena was discovered in the district Grados. As a result people left their settlements and moved to Grados. They named the place Agios Konstantinos, after the Saint. In 1894 large parts of the city were destroyed and reconstructed shortly after, following some urban planning. In the 60ies Agios Konstantinos gained more and more popularity with tourism because of the national road Athens - Salonika that used to pass through the town. Even though the town is being bypassed by the national road, it has remained an interesting destination for Greek tourists.
Those travelling to the destination Agios Konstantinos will be amazed by the numerous options the town offers, like cafeterias, restaurants, accommodation and the opportunity to go sightseeing. People interested in culture, can visit the church of St. Constantine with its Byzantine mosaics and the city's open-air theater before their departure with ferries from Agios Konstantinos.
The ferry timetable Agios Konstantinos can be seen online through isFerry's booking engine and includes Agios Konstantinos ferry routes to the Northern Sporades, to Evia and to Volos.
Schedules & Prices Agios Konstantinos
Choose your departure port and date and get all current ferry schedules and prices for Agios Konstantinos!
Discounts & Offers Agios Konstantinos
Ferry Port Agios Konstantinos - How to get there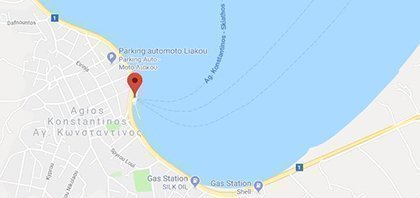 350 06 Agios Konstantinos, Fthiotida, Greece
Tel.: +30 223 503 1759
GPS: 38.758644, 22.859559
Popular Routes from & to Agios Konstantinos