Select from Map
Camping on Board advantages
All passenger Cars & Trailers
Your Pets are welcome
Please define your own filters below
Ferry to Koufonisi
Passengers traveling with the ferry to Koufonisi will visit two islands with golden beaches and emerald waters, Pano and Kato Koufonisi!
Traveling to the Destination of Koufonisi
Pano Koufonisi is inhabited only by 365 residents while Kato Koufonisi is uninhabited since it has been declared an archaeological site. Pano Koufonisi has a great tourist development in recent years due to its beautiful beaches and the very friendly atmosphere of the Village, the only settlement on the island. From the port the road turns into a paved cobbled street with cafes, boutiques and restaurants where the main activity of the island is taking place.
Anyone who arrives by ferry to Koufonisi is looking for a quiet holiday by the sea, good food and relaxed entertainment. The small surface of the island, only 5.77 square kilometers, is ideal for walking explorations. From the sheltered harbor of Parianos, up to the west to Pori, the visitor has the opportunity to discover small bays with crystal clear waters and golden sand, such as the beaches of Finikas and Italida. Along this route, rocky formations in the sea create natural pools and sea caves. Before leaving with a ferry from Koufonisi don't forget to visit with small boat the exotic beach of Nero in Kato Koufonisi and the small port with the chapel of Virgin Mary celebrated on 15th of August.
Koufonisi routes depart from Piraeus, Paros and Naxos and connect the island with the small Cyclades, Syros and Amorgos. During the summer months Koufonisi is also connected by high speed ferries departing from the port of Piraeus and Rafina.
Schedules & Prices Koufonisi
Choose your departure port and date and get all current ferry schedules and prices for Koufonisi!
Discounts & Offers Koufonisi
Ferry Port Koufonisi - How to get there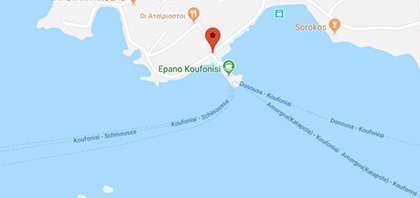 Ano Koufonisi, 843 00 Koufonisia, Greece
Tel.: +30 228 502 2300
GPS: 36.930276, 25.599906
Popular Routes from & to Koufonisi