Camping on Board advantages
All passenger Cars & Trailers
Ferry to Naxos
Passengers travelling by ferry to Naxos arrive to the largest and most centrally located island of the Cyclades Island Group, lying next to Paros!
Travelling to the Destination Naxos
Naxos features variety of landscapes and a main town, which impresses every visitor with its Frankish castle. Chora is a "white town" located on a hill above the port. The Portara, the great Gate of the Apollo Temple stands on an islet next to the castle and the port. In the port itself is another islet with a small church on it, the Panagia Mirtidiotissa.
Passengers travelling to the destination Naxos find picturesque villages, countless Venetian towers, rich in variety scenery and many old Byzantine churches. Endless white beaches, that are ranked among the most beautiful of the Cyclades and the mountain scenery where the black emery and marble comes from remain in a visitors memory. Both rocks are used to grind metals and contribute to the island's wealth. Another special product of Naxos is the citron, a lemon like fruit used for the production of liqueur.
The Naxos ferry timetable includes ferries starting from Piraeus, Rafina, the Cyclades, Ikaria, Samos and the Dodecanese. In the summer Naxos can also be reached by high speed ferries coming from Piraeus and Rafina.
Schedules & Prices Naxos
Choose your departure port and date and get all current ferry schedules and prices for Naxos!
Discounts & Offers Naxos
Ferry Port Naxos - How to get there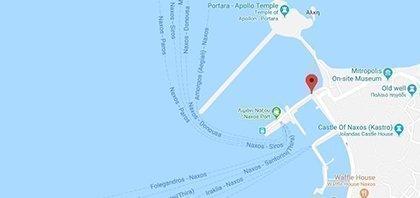 Naxos Town, 843 00 Naxos, Greece
Tel.: +30 228 502 2300
GPS: 37.107486, 25.373620
Popular Routes from & to Naxos