Camping on Board advantages
All passenger Cars & Trailers
Ferry from Mykonos to Athens
By taking the ferry from Mykonos to Athens, you are departing from one of the top visited Greek islands and arrive in the ports of Piraeus or Rafina in Athens!
Starting mainly from the New Port in Mykonos, frequent conventional and high-speed ferries cross the Aegean Sea and disembark passengers at either Piraeus or Rafina. Travelers can then visit the historical center of Athens or any other area, by using the many and frequent public transportation means. In the following lines, we provide all the needed details for your journey. 
By taking advantage of the user-friendly isFerry booking engine, you are capable of checking all ferry schedules, compare prices and in the end, make your Mykonos to Athens ferry booking in advance.
Traveling from Mykonos to Athens
Traveling from Mykonos to Athens is easy and fast. Passengers have to arrive in Mykonos New Port in Tourlos, a few kilometers north of Chora and board on their ferry. The distance to Piraeus or Rafina is short, hence the journey does not last long regardless the vessel type.
Mykonos to Athens distance
The distance between the New Port of Mykonos and the port of Piraeus is 85 nm (160 km) while Rafina is a little closer to Mykonos, abstaining around 71 nm (130 km).
Mykonos to Athens ferry time
The ferry time from Mykonos to Athens varies according to the type of the vessel, the stops it makes and in which port of Athens it drops its anchor. Generally, the ferry duration is 2.5-5 hours.
High speed or conventional ferry boat from Mykonos to Athens?
Getting from Mykonos to Athens can be achieved either with a conventional or a high speed ferry. Conventional vessels grant travelers the opportunity of bringing their vehicles along and are providing them plenty of amenities on board. High-speeds are much smaller, own less facilities but are much quicker for a slightly higher cost.
Useful tips for your arrival in Athens
If you are disembarking in Piraeus port:
There are bus stops just outside the port facilities and many taxis awaiting to pick you up
Athens center abstains only 10 km from the harbor
You can find plenty of restaurants, cafeterias, shopping centers and hotels around
If you are disembarking in Rafina port:
There are taxis and frequent buses running towards Athens center and to Athens International Airport
Rafina is located in the eastern suburbs of Athens which are attractive to tourists and to Athenians who spend their summer weekends there
Rafina's road infrastructure towards Athens is very well developed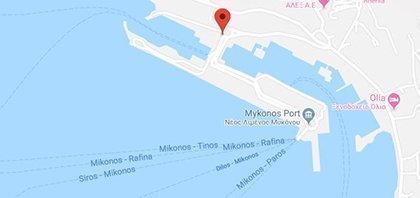 New Port
Tourlos, 846 00 Mykonos, Greece
Tel.: +30 228 902 8933
GPS: 37.466132, 25.322824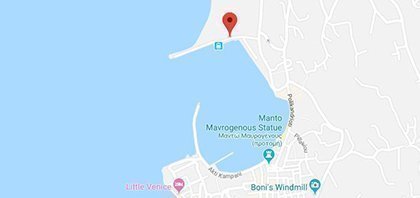 Old Port
Mykonos Town, 846 00 Mykonos, Greece
Tel.: +30 228 902 8933
GPS: 37.451178, 25.327796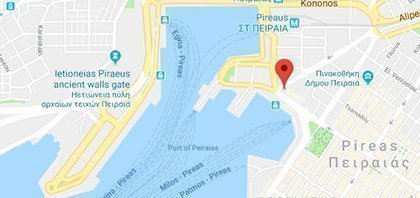 185 45 Piraeus, Greece
Tel.: +30 210 455 0100
GPS: 37.945465, 23.642767