Camping on Board advantages
All passenger Cars & Trailers
Ferry to Mykonos
Passengers travelling by ferry to Mykonos are enlightened from the shine and glamour of the most famous Cyclades Island in the world!
Travelling to the Destination Mykonos
The island features a rather barren landscape but makes up for it with its beautiful beaches and the crystal clear waters that surround it. Mykonos has been attracting thousands of tourists for 100 years. Chora is the main town of Mykonos and also the location of the port whose traditional Cycladic architecture makes it the most picturesque port of the Cyclades. The town consists of small cube shaped houses and narrow paths spreading out from the seashore at the port to the top of a hill. Chora is almost car-free.
Tourists travelling to the Destination Mykonos recognize soon the versatility of that island. It is possible to relax and to withdraw as well as to get wild and party all day and all night. The vivid and internationally colored activity that you can find on the island in the summer scatters in different directions. There are the much quieter beaches of Agios Sostis, Agios Stefanos and Agios Iannis and the two rather crowded beaches of Super Paradise. Cube shaped houses, the colorful fisherman boats, the blue sea, the narrow paths with the typical cobbled paving and the whole architecture shifts one into a fairy tale. No to miss are the countless churches and of course Little Venice, the famous tourist district where the houses reach the water.
Ferry routes Mykonos start from Piraeus, from Rafina, the Cyclades and Dodecanese Islands, Samos, Ikaria and from Thessaloniki. In summer tourists can reach Mykonos by travelling with the high speed ferries. From Mykonos it is possible to take a ferry ride to the neighboring island Delos.
Schedules & Prices Mykonos
Choose your departure port and date and get all current ferry schedules and prices for Mykonos!
Discounts & Offers Mykonos
Ferry Port Mykonos - How to get there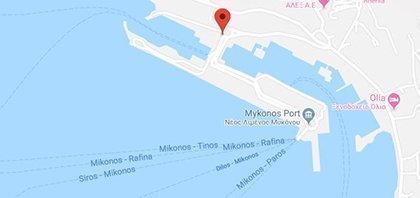 New Port
Tourlos, 846 00 Mykonos, Greece
Tel.: +30 228 902 8933
GPS: 37.466132, 25.322824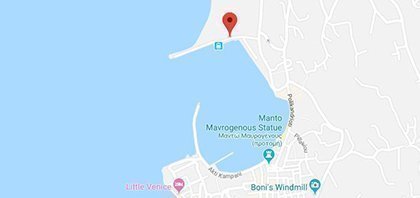 Old Port
Mykonos Town, 846 00 Mykonos, Greece
Tel.: +30 228 902 8933
GPS: 37.451178, 25.327796
Popular Routes from & to Mykonos