Camping on Board advantages
All passenger Cars & Trailers
Ferry to Sete
Passengers travelling by ferry to Sete arrive at a port and a seaside resort on the Mediterranean, also known as Cette until 1928!
Travelling to the Destination Sete
It is a commune in the Hérault department in the Languedoc region in southern France. Nowadays people refer to Sète as to "the Venice of Languedoc". This magnificent place has its own very strong cultural identity, traditions, cuisine and dialect. It is also the hometown of a lot of artists like Paul Valéry and Georges Brassens.
It was Louis XIV who had instructed his minister Colbert to find a new sea route for the royal galleys and to create a port for shipping Languedoc's products, Ferries to Sete approach the very same port at present. Built upon and around Mont St Clair, Sète has a network of canals which are link between the Étang de Thau, an enclosed salt water lake, and the Mediterranean Sea. Before departing with the Ferry from Sete, visitors should visit the Paul Valéry Museum which contains a collection of his drawings and manuscripts. Also, Sète is a center of water jousting, and hosts a major tournament during the town festival, the St-Louis. If you are in Sète on the 25th August you will be amazed by the canal jousting competitions, music and fireworks in honour of St. Luis, the patron saint of the town.
First and foremost a port, Sète has become a vitally important presence in southern France. Ferry routes Sete serve tourists to arrive at today's vibrant, bustling town. Visitors will find a lot of attractions, mostly within a few minutes walk from the port, including art galleries, museums and a splendid market, known for fish, seafood and local produce. Through Ferry routes Sete passengers can find out how to get to this wonderful town with its 12 km long sandy beaches, the exquisite cuisine and the traditional jousting which is much more than simple folklore or tradition, as it reflects the very soul of Sète's inhabitants!
Schedules & Prices Sete
Choose your departure port and date and get all current ferry schedules and prices for Sete!
Discounts & Offers Sete
Ferry Port Sete - How to get there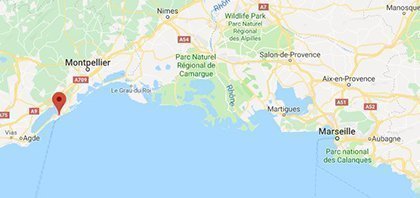 1, Quai Philippe Régy, 342 00 Sète, France
Tel.: +33 046 746 2828
GPS: 43.405031, 3.704571
Popular Routes from & to Sete