Camping on Board advantages
All passenger Cars & Trailers
Ferry to Tangier
Passengers travelling by ferry to Tangier are catapulted by history, colors, smells and melodies into another time of the 1000 and 1 nights!
Travelling to the Destination Tangier
It is located on the North African coast at the western entrance to the Strait of Gibraltar where the Mediterranean meets the Atlantic Ocean. Once being a strategic Berber town and then a Phoenician trading center, Tangier owns a rich history, due to the historical presence of many civilizations and cultures. Many European and American diplomats, spies, writers and businessmen added with their presence to the mystery of that city. Nowadays, it is undergoing a rapid development and modernization including new tourism projects along the bay, a modern business district and a new airport terminal.
Ferry to Tangier might sail into the new Tanger- Med port, which operates 8 million containers, 7 million passengers, 700,000 trucks, 2 million vehicles, and 10 million MT of oil products. The arriving passengers will love the unique atmosphere of this city, created by the alleys in the Petit Socco area and the many avant-gardist café terraces. They will love a cup of coffee in the famous Grand Café de Paris or the El Minzah Hotel which both were haunts of the famous names of arts and literature of the 19th and early 20th centuries. Before leaving with ferries from Tangier, visitors should take in the amazing view of the medina and the port and bay of Tangier from Faro Square. Also, the mythical Hafa café overlooks the Strait of Gibraltar from the top of the cliff.
Ferry Routes Tangier connect Morocco with Spain, Gibraltar, Italy and France with almost 38 ferry crossings daily from Tangier. Passengers, seeking for both exotic and adventurous holidays, can find out through Tangier ferry timetable how to plan and organize their journey to places like the African Tangier. A maze of alleys leading to the Kasbah and the old sultans' palace, the Great Mosque situated close by or the Casabarata souk – a giant flea market, odours and colours will transfer them into a mythical reality of 1000 and 1 nights.
Schedules & Prices Tangier
Choose your departure port and date and get all current ferry schedules and prices for Tangier!
Discounts & Offers Tangier
Ferry Port Tangier - How to get there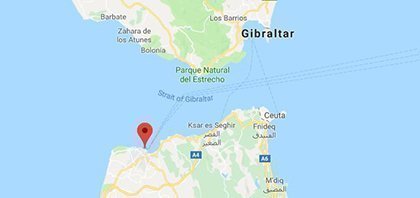 50, Av. Mohammed Tazi, Marchane, 900 00 Tangier, Morocco
Tel.: +212 (0) 539 332 332
GPS: 35.788731, -5.807157
Popular Routes from & to Tangier
Popular Routes from & to Tangier