Camping on Board advantages
All passenger Cars & Trailers
Ferry Ravenna
Passengers travelling by ferry to Ravenna arrive in the capital city of the same-named province of Ravenna in the Emili-Romana region of Italy!
Travelling to the Destination Ravenna
In former times the city used to be located at the seafront of the Adriatic coast. Due to siltation the city is now located 9 km away from the coast and is connected to the port Corsini and the Marina di Ravenna by the Candiano Canal. Ravenna features a healthy economy and a good infrastructure. Tourism and Industry are the main pillars of its economy. Not only the city centre but numerous baths at the seaside with a lot of campsites, holiday homes and hotels serve the needs of tourists. Large parts of those places are nature reserves. On the other hand the industrial areas include an oil refinery, chemical industry and energy industry, a steel mill and clothes and food industry.
Tourists travelling to the destination Ravenna can visit, if they want to, a lot of interesting places. Early Christian churches, baptisteries, museums, mausolea and mosaics determine the art history picture of the city. Many buildings are listed in the UNESCO World Heritage Sites; San Vitale, Mausoleum of Galla Placidia and the Mausoleum of Theoderich, Sant Apollinare Nuovo, Baptistery of the Arians and the Orthodox, the Bishop Chapel and the Sant Apollinare in Classe. Those who leave the city with ferries from Ravenna should have visited the central Piazza del Popolo, the Alghieri and the Rasi Theatre, the Oriani Library, the Palace of the Province, the Palace of Arts and Sports "De Andre", the big market hall, the museum for dolls, and the city tower.
Ravenna covers an area of 652 square kilometres. Approximately 154,000 people live in the city. Population density is 237 inhabitants per square kilometre. Ferry routes Ravenna are very well developed and all included in isFerry's real-time Ravenna ferry timetable. Among other ports the ports of Igoumenitsa and Patras are reachable from Ravenna.
Schedules & Prices Ravenna
Choose your departure port and date and get all current ferry schedules and prices for Ravenna!
Discounts & Offers Ravenna
Ferry Port Ravenna - How to get there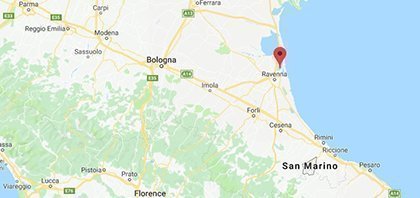 192, Via Baiona, 481 23 Ravenna, Italy
Tel.: +39 054 460 8811
GPS: 44.472263, 12.246749
Popular Routes from & to Ravenna