Camping on Board advantages
All passenger Cars & Trailers
Ferry to Sicily
Traveling by ferry to Sicily, the traveler will meet an island of spectacular nature, amazing sea, historical treasures and artistic multicultural masterpieces!
The island of Sicily is located in southern Italy and is the largest and one of the most densely populated islands in the Mediterranean Sea. Because of its strategic location in the center of the Mediterranean has been a hub of history and a pawn of conquest and empire, by several ethnic groups. Worthy of special mention should be given to the presence of the very intense Greek culture in the neighboring country due to the long-term domination of the Greeks in the territories of Sicily where it led to a period of artistic creation with characteristic examples of this creation the existence of many imposing monuments and archaeological sites!
However, in addition to the important history of the island, there is a wonderful nature with 5 regional national parks, 3 active volcanoes, three Mediterranean seas, the Tyrrhenian Sea, the Ionian Sea and the Sicilian Canal, marine protected and not protected areas, many tropical sandy and pebble beaches, beautiful towns and villages, that make Sicily as one of the most interesting destinations for unforgettable vacations.In Sicily, the visitor should not miss the flavours and fragrances where the term of fusion cuisine makes real sense as mixes ingredients from different cultures!
The autonomous region of Sicily has contributed remarkably to Italian culture with strong cultural traditions and several examples of folk art—such as embroidery, painting, and puppetry—and popular religious festivals.
The unique Sicily with its rich nuances with paths in nature, history, art and culture, is an ideal destination that can be enjoyed all year round and suitable for any type of vacation. So, we recommend that you book your ferry tickets in advance!
Reaching Sicily by Ferry
Reaching Sicily by ferry is feasible from the Italian mainland and also from Cagliari in Sardinia, Malta, France and Tunisia. There are frequent crossings from the Italian mainland during the week and are carried out by passenger ferries and hydrofoils. Moreover, there are ferries to Pozzallo from Malta, with connecting bus service to Catania. Bear in mind that during peak season there is a high demand so it is advisable to book your tickets some weeks earlier. The option to travel to Palermo in Sicily from Tunis is also quite exciting.
From Italy to Sicily by Ferry
There are many connections from Italy to Sicily by ferry all year round. These connections are particularly between the ports of Genoa, Livorno, Civitavecchia, Naples, Salerno, Cagliari, Reggio Calabria, Villa San Giovanni with the ports of Palermo, Termini Imerese, Trapani, Catania, Messina, Milazzo and Marsala.
Some of the most popular connections are:
Naples - Palermo or Termini Imerese: There are 2 crossings/ per week with trip duration 10hours and 30 minutes.
Civitavecchia - Palermo: Currently 1 crossing per week with trip duration 13 hours and 30 min.
Genoa - Palermo: There are 7 crossings per week with duration of the trip 20 hours and 30 min.
Salerno-Palermo: There are 2 crossings weekly with trip duration 9 hours and 30 min.
Civitavecchia - Termini Imerese: This crossing is running once per week and the duration is 14hrs and 15 min.
Livorno - Palermo: The frequency of this crossing is 3 times per week with sailing duration around 19 hours.
Salerno - Catania: The crossing operates up to 6 times/ week with trip duration around 13 hours.
Salerno - Messina: Daily departures and journey duration around 9 hours.
Villa San Giovanni -Messina: Departures during the day and night, with a ferry leaving every 40 minutes and the duration of the crossing only 20 minutes.
Please note that for the above mentioned crossings, sailing durations and frequency may vary from season to season! So we suggest you check through our: isFerry's online booking system in order to receive updated information on schedules and departures!
Ferry from France to Sicily
Take the option to travel by ferry from France to Sicily! More precisely available crossing runs from Toulon to Trapani twice a week with a journey time of about 20 hours and 59 minutes and another one from Nice to Trapani which is a seasonal route from April to September, every week and a journey time of about 18 hours and 15 minutes! A great adventure trip across the Mediterranean Sea!
Ferries from Sardinia to Sicily
The ferries from Sardinia to Sicily are performed from the port of Cagliari. The connection is pretty good and the ferry crossing from Cagliari to Palermo takes about 13 hours with several departures weekly. If you choose a night departure we suggest you to book a cabin for a comfortable and relaxing journey.
Ferry Routes from Malta to Sicily
You can choose among 2 ferry routes from Malta to Sicily operating frequently and offering in total nearly 17 weekly departures.
Ferry from Tunisia to Palermo (Sicily)
Make the perfect combination by traveling by ferry from Tunisia to Palermo in Sicily. On average, there are 3 crossings on a weekly basis with trip durations of approximately 14 hours 30 minutes.
Sicilian Ports
It is certain that Sicily has several ports (about 33 in total) which are mostly used for transportation to Italy. However, the major Sicilian ports where most of the routes are performed between Italy and other European countries are Palermo and Messina.
Port of Palermo
Palermo is the capital of Sicily and is located in the southern part of the island. It is a lively city, full of historical attractions, which betrays its long history. The port of Palermo has ferry connections with the major Mediterranean ports and in particular with Genoa, Civitavecchia, Naples, in Italy, as well as the ports of Spain, Tunisia and Libya, and the minor islands of the Sicilian archipelago. The port of Palermo is well connected to the road network that links all the main ports of Sicily (Messina, Catania, Augusta, and Trapani) and the rest of the island.
Port of Messina
Thanks to its strategic position, the port of Messina, at the center of the Mediterranean, is an important port and an ideal stopover for ferries sailing towards Sicily.There are ferries departing from the port of Messina for Villa San Giovanni, Reggio Calabria and Salerno with continuous connections on 24 hours basis and with an increased number of crossings in the summer period. Moreover, the port is the starting point for departures to the Aeolian islands with also very frequent connections. Finally there are ferry connections to the main destinations: Rinella and Santa Maria Salina on the island of Salina, Lipari and Vulcano. The port of Messina is easily accessible by car and train from all over Sicily.
Holidays in Sicily
For every traveler, vacations in Sicily are a great opportunity to experience the perfect combination of the West and the intoxicating East! Throughout the year, Sicily displays beautiful and incredible changes in the landscape, fabulous nature with wild flowers, green hills and breathtaking blue seas. Sicily's mild climate, stunning collection of sand and pebble beaches, unique Italian gastronomy and cultural attractions make it a very attractive destination.
Each of the ancient civilizations that influenced the island left their mark, and a rich heritage of magnificent Greek temples and UNESCO World Heritage sites that no one should miss, such as Segesta, Agrigento, Selinunte and Syracuse.
Wandering and strolling through the cities of Sicily, admiring the Sicilian Baroque art, the architectural history of great monuments, palaces and cathedrals, it is sure that the visitor will fall in love with the most beautiful city of mortals as the poet Pindar called it!
Best Things to Do in Sicily
There are plenty of must-see attractions and best things to do in Sicily. Please find below the best places and archaeological sites to see during your stay in this beautiful island:
Palermo
Taormina - Roman Theatre
Etna
Monreale
Cefalù
Temple of Segesta
Erice medieval village
Selinunte Temples
Trapani
Agrigento -The valley of the Temples
Syracuse and Island of Ortigia
Messina
Catania
Enna
Villa Romana del Casale
Caltanissetta
Ragusa
Aeolian Islands
Scala dei Turchi
Volcanoes (Etna, Stromboli and Vulcano)
The Baroque cities of Noto, Ragusa and Modica
Zingaro & Monte Cofano & Torre Salsa-Nature Reserves
Pelagie Islands
Cattedrale di Palermo
Nebrodi Mountains
The gorge of Alcantara
Sicilian Beaches
The island also offers numerous magnificent beaches and some of them are the following:
San Vito lo Capo
Mondello
Calamosche
Isola Bella
Sampieri
Scala dei Turchi
Cala Rossa
Lungomare di Cefalù
Scopello
Spiaggia Marinello
Cala Dogana -Levanzo
Bue Marino -Favignana
Capo Bianco
Isola Dei Conigli
Hotels in Sicily
In the charming Sicily the visitor will find some of the best hotels in Italy. You can relax by the pool in a luxurious beach resort or choose a cozy boutique hotel with beautiful facilities or low-cost hotels for your leisure and business trips and organic farm hotels. We recommend you some of the hotels that will lead you to a wonderful and unforgettable stay in Sicily.
Therasia Resort Sea and Spa
Monaci delle Terre Nere in Etna
Le Case dello Zodiaco
Luxury small hotel Noto
Charming bed and breakfast & Organic farm Ragusa
Luxury resort Rosolini - Noto
Luxury hotel Selinunte
Casa Talia in Modica
Relais Chiaramonte - Budget Hotel
Day Trips from Sicily
During your stay in Sicily, you have the opportunity to visit great places with incomparable beauty. We give you some ideas for day trips from Sicily
Full Day Sailing Tour Catania-Acitrezza
Taormina Coastline and Isola Bella Boat Tour
Excursions from Cefalù to the Aeolians( not every day)
Boat Trip from Messina to Panarea and Stromboli
Boat Trips up the Ciane river, 5 miles from Siracusa, with the remains of a Greek temple
Trip from Milazzo to Aeolian islands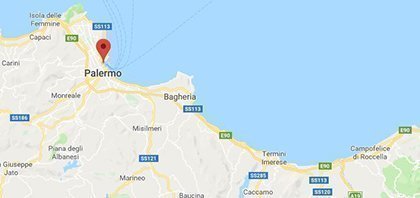 Molo Santa Lucia, 901 33 Palermo, Italy
Tel.: +39 091 627 7111
GPS: 38.128626, 13.362915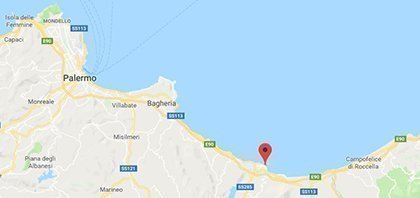 Lungomare Cristoforo Colombo, 900 18 Termini Imerese, Italy
Tel.: +39 091 814 1007
GPS: 37.986909, 13.703439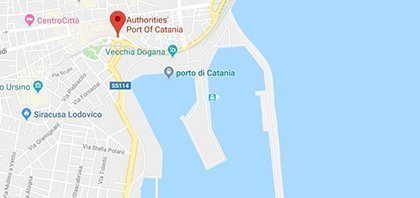 2, Via Cardinale Dusmet s.n., 95121 Catania, Italy
Tel.: +39 095 535 888
GPS: 37.501913, 15.089523