Camping on Board advantages
All passenger Cars & Trailers
Ferry to Ancona
Passengers travelling by ferry to Ancona approach a city that not only offers a variety of sightseeing but also connects Greece with Italy and Europe!
Travelling to the Destination Ancona
When approaching the town one can spot the Arco di Traiano (Trajan's Arch), which was built in the year 115 in honor of the Roman Emperor Trajan, as well as the Arco Clementino (Clementine's Arch) dedicated to Pope Clement XII. These landmarks reveal their old age in spite of standing amongst functional buildings of a modern industrial port city.
Tourists travelling to the destination Ancona can expect to explore a lot of interesting places: the Piazza del Duomo with the Cathedral of San Ciriaco and the museum Diocesano, as well as the Piazza del Senato with the Palazzo Ferretti housing the Museo Archeologico Nationale delle Marche. There is the Piazza Stracca with the Chiesa Il Gesu whose classical facade was created by Luigi Vanvitelli in the 18th century and the Piazza San Francesco with San Frascesco alle Scale. The Palazzo Bosdari houses the Pinacoteca Comunale. These are only a few of the impressive places that the city of Ancona has to show. The Byzantine shaped architecture of the numerous churches and palaces and the extensive collections of antique, medieval and contemporary paintings and sculptures displayed in the museums turn every visit into a unique experience.
The port of Ancona is located in the east of the city. Under the rule of Emperor Trajan in 278 B.C. the harbor became a bastioned naval base. After that it served as a center for trade and seafaring. Moreover, it takes center stage regarding tourist fluctuation today. Ferry routes Ancona are available all year round connecting to Patras, Igoumenitsa and Corfu in Greece.
Schedules & Prices Ancona
Choose your departure port and date and get all current ferry schedules and prices for Ancona!
Discounts & Offers Ancona
Ferry Port Ancona - How to get there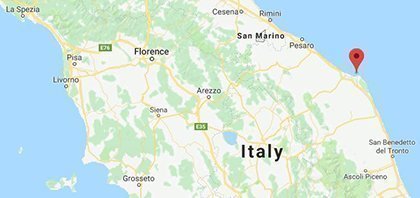 Molo Santa Maria, 601 21 Ancona, Italy
Tel.: +39 071 207 891
GPS: 43.620857, 13.508856
Popular Routes from & to Ancona