Camping on Board advantages
All passenger Cars & Trailers
Ferry to Patras
Passengers travelling by ferry to Patras arrive at the third largest city of Greece and one of the most important sea gates to and from Italy!
Travelling to the Destination Patras
Patras is located in the northwest of the Peloponnese peninsula and is known for its significant port. Everyone who wants to enter Greece coming from the Adriatic corridor must head into the port of Patras. Therefore the city is called the gate to Greece. Nevertheless, it is not only the presence of the big ferries that determines the image of the town, but also the small fishing boats and yachts. Patras too, after Athens and Thessaloniki was designated European Capital of Culture in 2006.
Tourists travelling to the destination Patras not only find tourist infrastructure and entertainment facilities offered around the port but also a rich and lively city center that has a lot to offer. Many narrow and very old alleys, with bars and cafeterias provide a calm atmosphere so as to escape from the busy streets and to relax with a drink. Boutiques and other small shops remind a bit of Italy. One should not miss to discover some of the cultural treasures that are hidden in the city. The Apollo Theater, built in 1872, the ancient Odeon of Patras, which especially during the summer hosts a lot of events and concerts, and the archaeological Museum are worth to visit. The latter in particular is ranked among the most significant museums in Greece, displaying original mosaics and statues from the Hellenistic and Roman times.
Ferry routes Patras are highly developed due to the central location of the port. From there routes to Italy link Patras to Venice, Ancona, Bari and Brindisi.
Schedules & Prices Patras
Choose your departure port and date and get all current ferry schedules and prices for Patras!
Discounts & Offers Patras
Ferry Port Patras - How to get there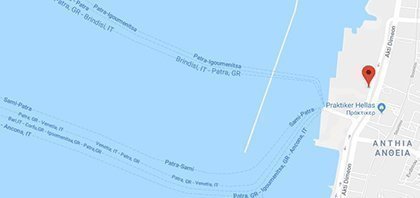 25, Akti Dimeon, 263 33 Patras, Greece
Tel.: +30 261 036 5135
GPS: 38.227508, 21.722337
Popular Routes from & to Patras