Camping on Board advantages
All passenger Cars & Trailers
Ferry to Iraklia
Passengers travelling by ferry to Iraklia experience the most tranquil island of the Small Cyclades island group!
Travelling to the Destination Iraklia
Not exceeding more than 19 square kilometers, rocky hills occupy the largest area of the island forming steep cliffs. The port of Agios Georgios accommodates all the tourist activity with rooms to let and traditional taverns offering fresh fish and delicious local delicacies. The villages of Agios Georgios and Panagia amphitheatrically built at the foot of the Pope Hill give the visitor the feeling that the island has been forgotten through time. Bird watching, diving, hiking and snorkeling are some of the activities you can do on the island.
When travelling to the destination Iraklia, one is looking for peaceful and family vacations. You can go swimming in the picturesque harbor of Agios Georgios with its clear waters or in Livadi, a sandy beach with emerald waters. Access to the southern beaches of the island, such as Alymia and Karvounolako is only made by boat or by taking specific paths. You must visit the cave of Agios Giannis, the largest cave of the Cyclades with fascinating stalactites and stalagmites and take part in the feast of St. John the Baptist a celebration that gathers many visitors from nearby islands. The peacefulness and simplicity of the island is something you won't forget when being on a ferry from Iraklia.
Iraklia routes are available from the ports of Rafina and Piraeus. The island is also connected with ferry routes to Syros, Paros, Naxos, Amorgos and on daily basis also with the rest of the Cyclades Naxos and Amorgos.
Schedules & Prices Iraklia
Choose your departure port and date and get all current ferry schedules and prices for Iraklia!
Discounts & Offers Iraklia
Ferry Port Iraklia - How to get there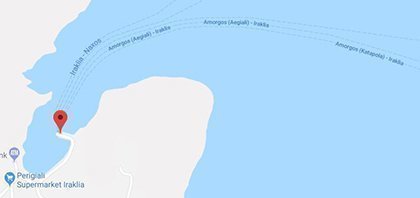 Agios Georgios Port
843 00 Iraklia, Greece
Tel.: +30 228 502 2300
GPS: 36.863224, 25.470336
Popular Routes from & to Iraklia