Camping on Board advantages
All passenger Cars & Trailers
Ferry to Syros
Passengers travelling by ferry to Syros discover the beautiful sandy beaches, the large bays and many archaeological sites!
Travelling to the Destination Syros
Syros or Syra as it is called by the locals, is a big city with lots of classics mansions, lovely squares and churches and a large harbour. A second large port is located in the town Hermoupolis. Hermoupolis used to be the largest commercial port in Greece.
Tourists travelling to the destination Syros should not only confine themselves to visiting only Hermoupolis and Syros Town, but also visit other places on the island. Syros Island has lots to offer; splendid sand beaches, large bays and archaeological sites. In addition, there are lovely hotels, restaurants, bars, taverns and a lot of sports facilities. Nightlife on the island is also notable. Those who depart with ferries from Syros should not have missed to visit the archaeological museum, the mansion Velissaropoulos and the Metamorphosis church. Vacation on Syros Island is worthwhile for the island has plenty to offer suiting everyone's taste.
Syros covers an area of 86 square kilometres and has a coastline of 87 km. It is located in the centre of the Cycladic Island group between Kythnos and Tinos. Approximately 20,000 people live on the island. Due to its geographical position it is an important junction and thus Ferry routes Syros are highly developed and all included online in isFerry's Syros ferry timetable. The routes Piraeus (80 nautical miles away) – Syros and Rafina – Syros link the island to the mainland and to other islands. Ferries to Syros also sail to Tinos, Mykonos, Paros, Naxos, Ios, Santorini, Ikaria and Samos. They also connect Syros with the rest of the Cycladic group.
Schedules & Prices Syros
Choose your departure port and date and get all current ferry schedules and prices for Syros!
Discounts & Offers Syros
Ferry Port Syros - How to get there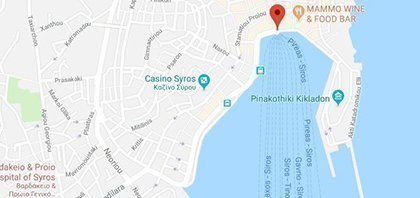 1, Ep. Papadam, 841 00 Ermoupoli, Syros, Greece
Tel.: +30 228 108 8888
GPS: 37.443308, 24.943264
Popular Routes from & to Syros