Camping on Board advantages
All passenger Cars & Trailers
Ferry to Kastelorizo
Passengers travelling by ferry to Kastelorizo sail to the south east Aegean Sea, to the Dodecanese Island Group!
Travelling to the Destination Kastellorizo
Part of them is the island Kastellorizo or Megisti, not very far from the island Rhodes (72 NM) and Cyprus (150 NM). Kastellorizo is a small Greek island with a total area of 9.1 km2 and a total population of 400 inhabitants. The biggest one though in the archipelago of which Kastellorizo is part of. 
Tourists travelling to the destination Kastelorizo are about to visit a Greek island with a very long nautical tradition. The marks from its nautical but also commercial growth are still ubiquitous on the island. In 1991the island became well known in the whole world due to the shootings of the Oscar winning Italian picture Mediterraneo. Before living with the ferries from Kastelorizo you should not miss to visit some of the many sightseeing opportunities the island has to offer. Two fortresses, two big churches, one grave and an archeological museum, all together are gathered in the one and only village of the island. The biggest Greek stalactive cave with a total length of 75 m and height of 35 m. is worth to see.
The ferry routes Kastellorizo are very well developed and depart from Piraeus, many islands of the Dodecanese and Cycladic Island Group and Antalya and other Turkish coastal areas. Please, use the above booking engine in order to see the detailed Kastellorizo ferry timetable and other useful information for your ferry trip to Kastelorizo.
Schedules & Prices Kastelorizo
Choose your departure port and date and get all current ferry schedules and prices for Kastelorizo!
Discounts & Offers Kastelorizo
Ferry Port Kastelorizo - How to get there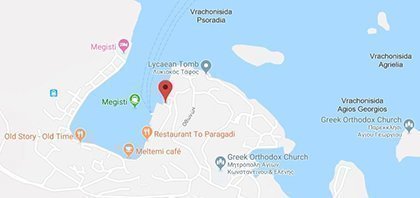 851 11 Kastelorizo, Greece
GPS: 36.150572, 29.592674
Popular Routes from & to Kastelorizo