Camping on Board advantages
All passenger Cars & Trailers
Ferry to Rhodes
Passengers travelling by ferry to Rhodes visit the largest island of the Dodecanese that is located in the southwest of the Aegean Sea close to the Turkish coast!
Travelling to the Destination Rhodes
The island is mountainous and covered with forests. The highest mountain is Ataviros with 1,215 meters. Due to abundance of water, arable strips of land and green valleys separate the mountains from each other. One of the Seven Wonders of the ancient World – the Colossus of Rhodes – used to stand at the entrance of the ancient port. Today there are two deer statues watching over the entrance. The old port of Rhodes is embellished by the castellum. The Palace of the Grand Master of the Knights of Rhodes has almost remained untouched by the passing of time. Next to the castle is the medieval town. The new town however is located in the northwestern part of the island and features modern buildings and hotels.
Tourists travelling to the destination Rhodes have the chance of visiting an island with a mild climate and an excellent touristic infrastructure. Rhodes is a popular holiday destination for Greek and foreign tourists all year round. Those who depart with ferry from Rhodes leave a UNESCO World Heritage Site. The beauty of nature and many archaeological treasures turn Rhodes into a place of international cultural interest.
Rhodes covers an area of 1,398 square kilometres and its coastline is 220 km long. Approximately 90,000 people live on the island. Many of them work in tourism. Ferry routes Rhodes link Piraeus (260 nautical miles away), the Dodecanes, Cyclades, and the northern and eastern islands of the Aegean Sea to Rhodes. There is also a route to Turkey. Through the Rhodes ferry timetable you will be able to find the ferry route of your convenience.
Schedules & Prices Rhodes
Choose your departure port and date and get all current ferry schedules and prices for Rhodes!
Discounts & Offers Rhodes
Ferry Port Rhodes - How to get there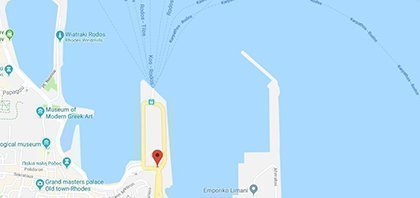 1, Akti Sachtouri, 851 00 Rhodes, Greece
Tel.: +30 224 102 2220
GPS: 36.444096, 28.232849
Popular Routes from & to Rhodes