Camping on Board advantages
All passenger Cars & Trailers
Ferry to Kyllini
Passengers travelling by ferry to Kyllini arrive in an ancient town which, according to Homer and Pausanias, has been inhabited since the Stone Age!
Travelling to the Destination Kyllini
According to Homer and Pausanias that port town has been inhabited since the Stone Age. The small town is situated in the northwest of the Peloponnese peninsula on the Ionian Sea coast. It is known for its natural spas (hot springs) and the miles and miles of golden sandy beaches. Those characteristics make the town attractive for domestic and international tourists of all ages.
Those travelling to the destination Kyllini could visit Kato Panagia, a place which is only 1 kilometre away. Kastro, which is a district in the centre of the port town with 800 inhabitants, offers tourist accommodation and information. Chlemoutsi Castle is situated there, on top of a hill. That 800 years old castle is visible from everywhere. Kyllini's spas or "Loutra" as they are called in Greece, are located in Loutra Kyllinis about 9 kilometres away from the centre. A lot of hotels, wellness facilities and well organized campsites are placed around the hot springs. Before their departure with ferries from Kyllini tourists should have seen the busy town centre with lots of shops, schools, banks and the port as well as the beautiful long beaches that the port town has to offer.
Kyllini covers an area of 49, 322 square kilometres. The population density is 96, 8 inhabitants per square kilometre. About 4 700 people live in Kyllini. Ferry routes Kyllini are well developed. All routes can be checked in detail through the online Kyllini ferry timetable. That small port has become important for passenger shipping in particular because of the routes to the Ionian islands of Zakynthos and Kefalonia.
Schedules & Prices Kyllini
Choose your departure port and date and get all current ferry schedules and prices for Kyllini!
Discounts & Offers Kyllini
Ferry Port Kyllini - How to get there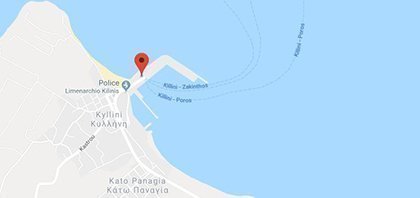 Public Services Building, 270 68 Kyllini, Ilia, Greece
Tel.: +30 262 309 2339
GPS: 37.937547, 21.147860
Popular Routes from & to Kyllini