Camping on Board advantages
All passenger Cars & Trailers
Ferry to Patmos
Passengers travelling by ferry to Patmos arrive to a high fluctuating touristic summer destination!
Travelling to the Destination Patmos
Arriving to Patmos one will soon notice the church standing in the middle of the island. Approaching further one can spot the monastery of St John the Devine or the Evangelist (Agios Ioannis o Theologos) crowning the hill of Chora. At nights a huge cross shines on top of the hill, symbol of the island's "holiness".  Tourism on Patmos fluctuates very much. A lot of visitors both from the Greek inland and from abroad come and go the same day. The monastery and the Chora, the small busy centre of the island with its picturesque alleys form the heart of the island.
Tourists travelling to the destination Patmos visit a pretty island with little creeks and clear waters. Nevertheless, nothing on the island is more overwhelming than the imposing monastery visible from almost all the places on Patmos. The view from that castle built like a fortress is fantastic. In a cave near the monastery St. John the Evangelist wrote the Book of Revelation. Those who travel back with ferry from Patmos have a sense of humbleness due to the historical significance of that place.
Patmos covers an area of 63 square kilometers. Approximately 2,500 people live on the island, which is located between Ikaria and Leros in the northeastern Dodecannese. Ferry routes Patmos are well developed and start from Piraeus which is 163 nautical miles away. Patmos is also reachable from Kavala, Rhodes, and the Cyclades, the rest of the Dodacanes and the islands of the eastern and northern Aegean Sea. The Patmos ferry timetable includes all possible ferry routes.
Schedules & Prices Patmos
Choose your departure port and date and get all current ferry schedules and prices for Patmos!
Discounts & Offers Patmos
Ferry Port Patmos - How to get there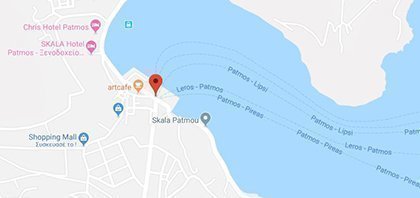 Skala Port
855 00 Patmos, Greece
Tel.: +30 224 703 1231
GPS: 37.323257, 26.544795
Popular Routes from & to Patmos