Camping on Board advantages
All passenger Cars & Trailers
Ferry to Leros
Passengers travelling by ferry to Leros arrive to a picturesque Greek island of the Aegean Sea!
Travelling to the Destination Leros
Together with bigger and smaller islands, it builds the island group of the south Sporades. The main place on Leros is Agia Marina and the neighboring village Platanos. Together the two places build an undivided community, seamlessly connected through an imposing fortress from the 14th century which was build from the Johanniter.
Passengers travelling to the destination Leros reach an island with a big variety of beautiful, natural beaches like the ones of Agia Marina, Alinda, Krithori Panteli, Vromolithos and many others. Besides that, many little villages, fortresses, churches and monasteries shape the islands face. It is not always necessary to leave with the ferry from Leros. In the north of the island an airport allows connection flights to and from Athens, Rhodes, Astypalea and Kalymnos.
The Leros ferry timetable of isFerry's real-time booking engine includes all Ferry routes Leros, which are well developed. The island is connected with the port of Piraeus in Athens over the islands Amorgos and Patmos. There are more connections with high speed and conventional ferries to the islands Kalymnos, Kos, Rhodes, Lipsi and Samos. In the summer months many daily departures take place.
Schedules & Prices Leros
Choose your departure port and date and get all current ferry schedules and prices for Leros!
Discounts & Offers Leros
Ferry Port Leros - How to get there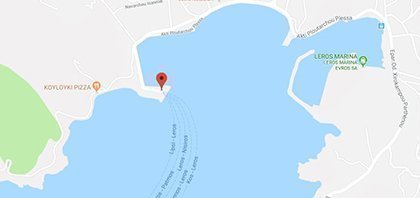 854 00 Leros, Greece
Tel.: +30 224 702 2224
GPS: 37.127842, 26.849230
Popular Routes from & to Leros