Camping on Board advantages
All passenger Cars & Trailers
Ferry to Mytilini
Passengers traveling by ferry to Mytilini arrive at the capital of the island of Lesvos, the 3rd largest island of Greece after Evia and Crete!
Buildings of classic architecture indicate a glorious cultural past and the constant activity around Sappho Square, the central market and the port reveal a city that continues to live and create. A perfect destination for lovers of nature, good food and hiking, Lesvos also satisfies those seeking quality.
Anyone traveling to the destination Mytilini has full access via the road network to all the traditional settlements of the island. Molivdos with the castle overlooking the stone-built houses is the most beautiful village of the island. The castle is surrounded by a pine forest that goes all the way down to the sea. The mountain village of Agiasos is a center of folk art, while Petra with its homonymous organized beach is a well-known holiday resort. Plomari is the most famous seaside settlement due to the production of its famous ouzo Plomariou. One place one must definitely visit before leaving Mitiliny by ferry is the famous petrified forest of Sigri one of the rarest natural monuments globally. It was created after an intense volcanic activity that took place 20 million years ago.
Mytilini covers an area of 1,630square kilometers and a coastline of 370km. It has a population of 90,000 residents. Ferry routes Mytilini start in the port of Piraeus Kavala and Thessaloniki. It is also linked to the islands of the Eastern Aegean, Chios, Limnos, Ikaria, Psara and Samos, the Cyclades, Mykonos and Syros and the Dodecanese, Patmos and Rhodes.
Ferry Port Mytilini - How to get there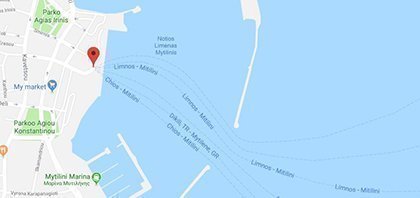 EO Mitilinis Kallonis, 811 00 Mytilini, Greece
Tel.: +30 225 102 5349
GPS: 39.101162, 26.557101
Popular Routes from & to Mytilini