Camping on Board advantages
All passenger Cars & Trailers
Ferry to Limnos
Passengers travelling by ferry to Limnos arrive at a volcanic island that offers wide and fertile plains to grow crops and vines!
Travelling to the Destination Limnos
Limnos is situated in the north Aegean Sea, between Lesbos, Samothraki, Imvros and Agion Oros. Capital of the island is Myrina (former name Kastro). In Myrina is also the port of the island.
When travelling to the destination Limnos, travelers arrive to a volcano island. Though the island has no forests, it has to offer wide fertile plains cultivated with cereals and vines. Beautiful beaches and very clean waters round off the picture of the island, making it the perfect destination for calm, relaxing and quiet summer vacations. With the ferry from Limnos leave mostly tourists. Though, the islands income is not only dependent from the tourism industry, but also from livestock, agriculture, fisheries, trade and maritime occupations.
Ferry routes Limnos are well developed and include crossings to and from Lesvos Chios, Samos, Ikaria, Mykonos, Syros, Kavala, Lavrion and the main port in Athens Piraeus. Not only conventional ferries but also high speed ferries depart from and to the island in the summer season. In order to check the Limnos ferry timetable and retrieve more useful information about your ferry trip, please, use the above real-time booking engine.
Schedules & Prices Limnos
Choose your departure port and date and get all current ferry schedules and prices for Limnos!
Discounts & Offers Limnos
Ferry Port Limnos - How to get there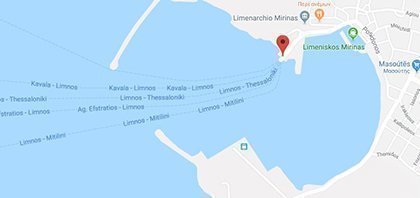 Mirina Port
8, Arvanitaki, 814 00 Mirina, Limnos, Greece
Tel.: +30 225 402 5660
GPS: 39.873771, 25.056776
Popular Routes from & to Limnos