Camping on Board advantages
All passenger Cars & Trailers
Ferry to Poros
Passengers travelling by ferry to Poros visit a beautiful small island of the Saronic Golf!
Travelling to the Destination Poros
Actually, Poros is consists of two islands, a smaller one, in the ancient years called Sferia, where the center of Poros is and a bigger one, Kalavria, where the most beaches Poros has to offer are and the ruins of the temple of Poseidon. Because Poros is in short distance from Athens, many Greek tourists take advantage of it and escape over the weekend from the fast rhythms of the town.
Tourists travelling to the destination Poros experience one of the most traditional village centers and islands all in all of Greece. The neoclassic architecture of the buildings, the almost circumferential port around the islands center with its many boats and yachts in the summer season and the flourishing, partially untouched nature create all together a very picturesque aesthetic. Passengers living with the ferry from Poros should have visited the many sandy beaches the island has to offer. The most popular are Askeli, Neorio, Limanaki tis Agapis (Love Bay), Rosikos and Plaz. The archeological museum with foundings of the temple of Poseidon and the ruins of the actual temple are very interesting, too.
Poros has a population of ca. 3.993 inhabitants in an area of 22,9 km2. The island is very near to the peninsula of Peloponess. But, mainly reachable is Poros from the port of Piraeus in Athens / Attika. From there many daily Ferry routes Poros take place. In the summer months conventional and high speed ferries connect the island with the other islands of the Saronic Golf, Aegina, Ydra, Spetses, etc. and of course, with the port of Piraeus, enriching in this way the Poros ferry timetable.
Schedules & Prices Poros
Choose your departure port and date and get all current ferry schedules and prices for Poros!
Discounts & Offers Poros
Ferry Port Poros - How to get there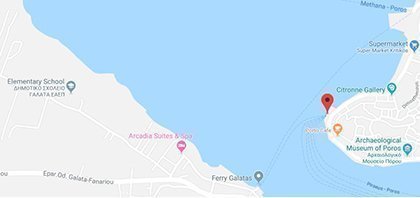 180 20 Poros, Greece
Tel.: +30 229 802 2274
GPS: 37.499931, 23.451225
Popular Routes from & to Poros