Camping on Board advantages
All passenger Cars & Trailers
Ferry to Angistri
Passengers travelling by ferry to Angistri will come across a small heaven at the Saronic Golf!
Passengers travelling with the ferry Angistri
The island is one of the greenest islands in Greece with a large variety of plants and pine trees many of them reaching the surface of the sea. It's ideal for those looking for relaxed vacations or a small gateway just 55 minutes from the port of Piraeus. The island has 2 main ports. The port of Skala is reached with conventional boats and the port of Megalochori with flying dolphins.
Tourists travelling to the destination Angistri will enjoy its beautiful sandy beaches, emerald waters and the peacefulness and natural beauties of the island. Megalochori is the capital of Angistri. One can take a walk through its narrow streets gazing at the old traditional houses and finally reach the town's main square where the church of Agios Zoodochou Pigis is located. Skala is more popular to the tourists as it offers a variety of taverns and bars for all tastes and also has many beaches close by where one can enjoy a day at the beach with fresh drinks and refreshments from the close cafes. A variety of activities is also offered at Angistri. Scuba diving, kayaking, hiking, sailing and small excursions to the other islands of Argosaronic will leave you with no dull moment.
Ferry routes Angistri are operated daily with many departures from the port of Piraeus with ferry boats that take 2 hours and hydrofoils that make the trip in less than an hour. One can also take a ferry from the port of Aegina.
Schedules & Prices Angistri
Choose your departure port and date and get all current ferry schedules and prices for Angistri!
Discounts & Offers Angistri
Ferry Port Angistri - How to get there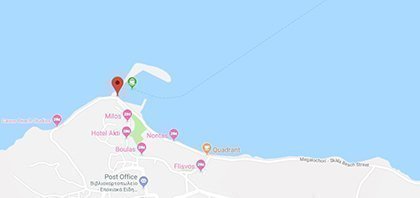 Myli Port
Megalochori, 180 10 Angistri, Greece
GPS: 37.713220, 23.346254
Popular Routes from & to Angistri