Camping on Board advantages
All passenger Cars & Trailers
Ferry to Santorini
Passengers travelling by ferry to Santorini are overwhelmed by a geological phenomenon defined by wild and original beauty!
Travelling to the Destination Santorini
Santorini is the remains after a volcanic eruption that destroyed half of the island and created the current caldera (400 m above sea level). On top of the Caldera clings Fira with its typical Cycladic houses. Santorini is the most southern and, together with Mykonos, the most famous island if the Cycladic group. The capital Thira, Firostefani and Oia are located at the crater rim. Fira is accessible by cable car, on foot or on the back of a donkey. Firostefani and Oia are also accessible by car. There are beaches for swimming in Kamari and Perissa. From there it is possible to visit the volcano on a small boat.
Tourists travelling to the Destination Santorini have a lot to discover. Many small picturesque villages with churches, arcades and alleys with countless tiny shops, cafes, bars and restaurants display the characteristic picture of the island. Unique, monochrome pebble beaches (sometimes red, sometimes black) remind of the massive impacts of the volcanic eruptions. Many smaller islands are located in the sea area of the crescent. One of the island hosts the remains of an ancient Minoan city which was destroyed by the volcanic eruption from 1450 BC. The ruins of that city and numerous murals can be visited.
Ferry connections to Santorini are available from Piraeus, the Cyclades, Crete, the Dodecanese and Thessaloniki. During summer high speed ferries also execute routes to Santorini.
Schedules & Prices Santorini
Choose your departure port and date and get all current ferry schedules and prices for Santorini!
Discounts & Offers Santorini
Ferry Port Santorini - How to get there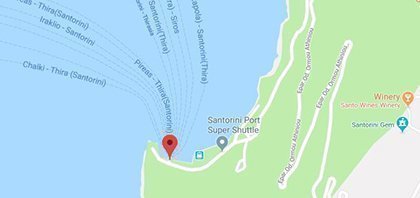 Athinios Port
847 00 Santorini, Greece
Tel.: +30 228 602 2239
GPS: 36.386121, 25.428430
Popular Routes from & to Santorini