Camping on Board advantages
All passenger Cars & Trailers
Ferry to Tinos
Passengers travelling by ferry to Tinos visit one of the largest and from mostly Greek tourists most visited islands of the Cycladic Island group!
Travelling to the Destination Tinos
Tinos is located between Syros, Andros and Mykonos. It is also a religious centre of Greece and is therefore mainly visited be Greek pilgrims. Tinos can be compared to Lourdes in France regarding its status as a pilgrimage site. Not very far from the port and reachable on a steep but wide road, placed on a hill, stands the church of Our Lady Tinos (Panagia Evangelistria). A red carpet leads to the entrance of the church. Pilgrims use the carpet to make their way from the ferry wharf to the church on their hands and knees as a sign of devotion. However, the faithful visitors of the church do not stay on the island for long. They usually return the same day and hence miss the beauties that the island has to offer.
Tourists travelling to the destination Tinos have the opportunity of visiting other place too and not just the dominating church of Panagia Evangelistria. There are a lot of white villages with traditional Cycladic architecture worth visiting. Further sights of the island that are worth seeing are the dovecotes. They are elaborately made and evidence of the artistic nature of the island. Famous Greek painters and sculptors of the 19th and 20th century were from Tinos: Chalepas, Filippotis, Sochos, Gisis, Litras are only some of them. Before their departure with ferries from Tinos, visitors should at least have seen and experienced some of the splendid sand beaches of the island.
Tinos has a land area of 195 square kilometres and a coastline of 106 km. Approximately 8,000 people live on the island. Ferry routes Tinos start from Piraeus (86 nautical miles away) and Rafina (62 nautical miles away). From Tinos passengers can continue their travel to the other Cycladic islands either with conventional ferries or with speed ferries. All routes are included in the Tinos ferry timetable of the real-time booking engine of isferry.com.
Schedules & Prices Tinos
Choose your departure port and date and get all current ferry schedules and prices for Tinos!
Discounts & Offers Tinos
Ferry Port Tinos - How to get there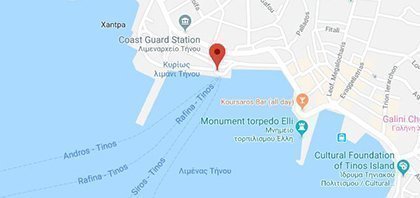 10, Leof. Stavrou Kionion, 842 00 Tinos, Greece
Tel.: +30 228 302 2348
GPS: 37.538657, 25.157615
Popular Routes from & to Tinos