Camping on Board advantages
All passenger Cars & Trailers
Ferry to Ios
Passengers travelling by ferry to Ios arrive to a very popular Greek island among young tourists from all over the world!
Travelling to the Destination Ios
Both Greek and International tourists maintain that it is the most beautiful island of the Cyclades group. Legend has it that the Greek poet Homer is buried on the island. From the small church of Agia Irene, situated on the right of the port, people can have a magnificent view of the deep blue Aegean Sea. The picturesque city of Chora, which is the small centre of Ios, is located above the port. A stroll through Chora leads along narrow alleys to little shops, bars, pubs, taverns and cafes that convey the impression of being in a doll's house. The atmosphere inspires people to rest and to chat. Another highlight is a range of windmills standing in a row close to the town.
Passengers travelling to the destination Ios experience hot days and long nights on the summer party island. Ios is very popular with its mainly young visitors (both from Greece and abroad). It is known for the wide rage of cafes, clubs and (beach-) bars as well as the large choice of campsites and miles and miles of gorgeous sandy beaches.
Ferry routes Ios are well developed because they link the island to other islands. A lot of Cycladic Islands, Crete and many islands of the Dodecanese are easily and fast accessible.
Schedules & Prices Ios
Choose your departure port and date and get all current ferry schedules and prices for Ios!
Discounts & Offers Ios
Ferry Port Ios - How to get there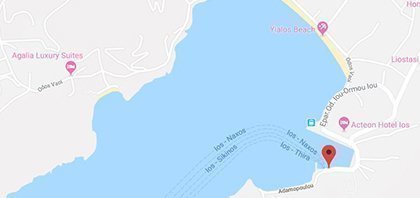 840 01 Ios, Greece
Tel.: +30 228 609 1264
GPS: 36.722066, 25.272932
Popular Routes from & to Ios