Select from Map
Camping on Board advantages
All passenger Cars & Trailers
Your Pets are welcome
Please define your own filters below
Piraeus Ferry Port
Piraeus is the third largest city in Greece. The commercial port of Piraeus is one of the most important in the Mediterranean. The city of Piraeus with the suburbs is an industrial zone of particular importance for the Greek economy. However the center has wide streets, spacious squares, tree-lined avenues and parks. Piraeus port connects the mainland with the islands in the Saronic Gulf, the Cyclades and the Dodecanese.
Below please find information about the Piraeus ferry port, as the geographical location of the port of Piraeus, how to get there by metro and / or bus from the Athens International Airport Eleftherios Venizelos and a map of all the useful facilities of the Piraeus departure port and all the departure gates of the Piraeus port to all relevant destinations.
On the web page Ferry Piraeus you will find further tourist information for the city of Piraeus and all destinations served by the port of Piraeus.
Athens International Airport to Piraeus Port
METRO
Use line 3 to Monastiraki. Then boarding on line 1 to Piraeus. The total journey takes about 60 minutes. Ver frequent connections are available. Through the following link you can reach the Official Metro Website.
BUS
Use line X96 Athens International Airport - Piraeus. The journey time is approximately 70 minutes. Very frequent connections are available. Via the link below you will be redirected to the Official Airport Bus Website.
Embarkation Gates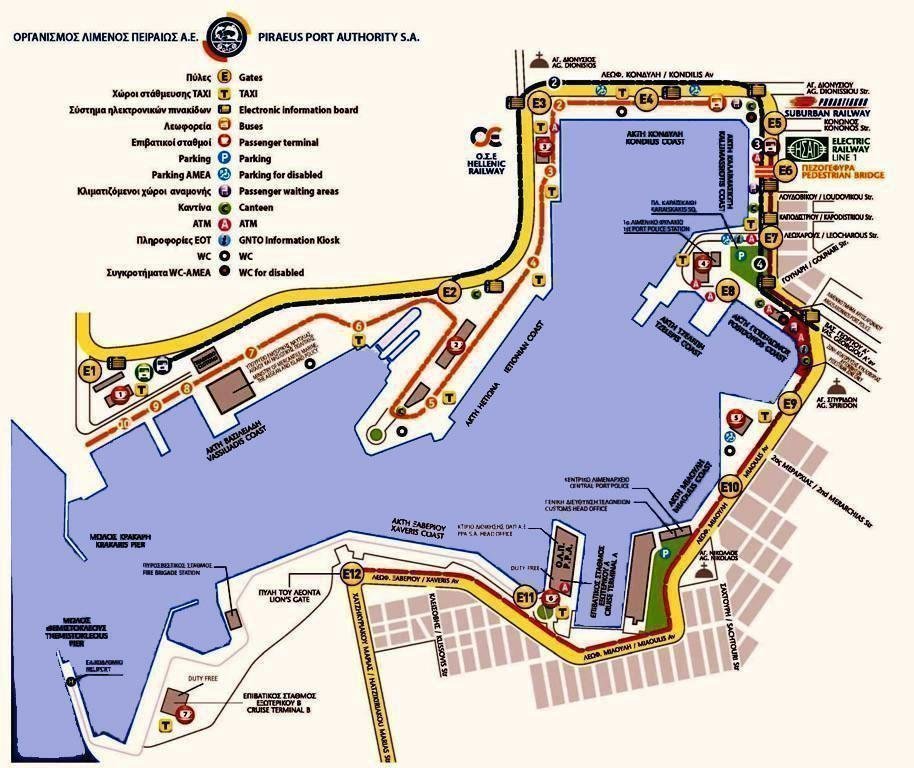 E2
Crete, Chios, Lesvos, Ikaria, Samos
E10
Cyclades, Samos, Ikaria
Port Facilities